Open access printmaking
Experience the energy and inspiration of one of London's most exciting print studios.
Open Access Printmaking workshop for artists, students and community groups, providing great facilities, services and training.
Artichoke Print Workshop, founded in 1992, continues to be an Institution in the print landscape of London. Situated in the heart of Brixton, the studio hosts a number of highly sought after professional printers, including Paul Catherall, Sophie Layton, Morgan Doyle and Marcelle Hanselaar. It also works alongside artists such as Duncan Wylie Kate Boxer Tom Phillips R.A. on editioning projects. Boasting seven presses including two large Rochat Etching Presses, the studio is suitable for all kinds of intaglio and relief processes.
Artichoke has a track record supporting young artists after graduation.
We work with community groups and local schools both on the premises and through outreach work with our mobile press.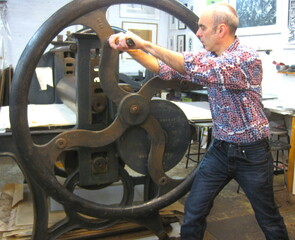 Artichoke Print Workshop Access & Costs
WORKSHOP ACCESS
All of the artists who work here are studio members . The studio is self supporting, with all costs borne by its members. We have a charitable trust status which relates to teaching printmaking.
Please ensure that all communication is done via email to artichoketradng@btconnect.com
Our membership is 10.00 per month payable by a standing order.
Sessional User
You can choose to pay to work here as a Sessional User, buying blocks of ten sessions for £195.00
Access times are – Wednesday, Thursday, Friday
10am – 2pm and 1 pm – 5:00 pm
Please agree these times in advance by email.
One off drop in rate
1 Session rate is £23 [4 hours]
Day rate is £ 44.00
10 am – 5 pm
This day must be agreed in advance, by email in order to work with our members.
.
Keyholder
The keyholder is a brilliant way to work as a committed printmaker
The professional facilities and equipment, materials, technical support and the available workspace are only the basics of what the Keyholder cost represents.
From our professional point of view as printmakers ourselves – there are so many unquantifiable things about working in the studio that we cannot put into words – you benefit hugely from the creative environment here, the contacts the learning and the networking.
You can choose to have Keyholder Access per calendar month, [student discount available ] enabling 24h access 7 days a week. This is an annual commitment payable by standing order.
It is designed to be cost effective if you use the studio between 1-2 days a week or more.
It is available for periods of a minimum of three months at a time. A keyholder may want to use the studio facilities more intensively for part of this three month period. This usage is balanced out across a three month period, enabling other Artichoke members fair access to the facilities.
Please note that occasionally members run printmaking courses here. These work in conjunction with the needs of our regular members.
We currently have two openings for a keyholder available.
Let us know when you are able to visit the studio.
Artichoke Print Workshop Unit S1 (Second Floor) Shakespeare Business Centre
245a Coldharbour Lane London SW9 8RR
Kindest regards,
Colin Gale
Artichoke Print Workshop
0207 924 0600